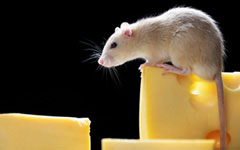 Any Rat Rescue is a 501(c)(3) organization dedicated to finding loving, forever homes for rats in need, serving the Phoenix and Tucson metropolitan areas..
We are approaching nearly 1,400 adoptions since our inception in 2004. We are a no-kill rescue that truly accepts any domestic rat, regardless of health, age, or temperament.
Any Rat Rescue is not a shelter, but rather a network of caring foster homes extending from Metro Phoenix to Tucson. Please contact us at info@anyratrescue.org for more information.
***IMPORTANT NOTICE***
Any Rat Rescue is a small, dedicated, all-volunteer organization and our ability to take in surrenders is limited. In the Phoenix area, we are referring families to the Arizona Humane Society. In Tucson, please contact Humane Society of Southern Arizona. Both organizations do take pet rats.
For more information about the benefits and importance of rescue, click here to read "Why do rats need rescuing?"
Great cages available! Contact us!

Sign up for our newsletter and check out what's happening in the world of rats! You'll receive updates on all of the great work that Any Rat Rescue is doing, as well as tips and tricks for keeping your rats healthy and happy! Send us a message from our contact page and indicate "yes" to receive our newsletter.
Click here to see our





World Rat Day
Saturday, April 1st
2:30 PM - 6:00 PM
No April Fool's joke here! April 1st is World Rat Day and we're celebrating with a party! Mark your calendars! For more information and location, please contact us.
Tabling Events
Pavillions Petco
8910 E. Indian Bend Rd.
Scottsdale, AZ
6 PM - 8 PM
Thursday, March 16th
Thursday, April 20th
Thursday, May 18th
Thursday, June 15th
Thursday, July 20th
Thursday, August 17th
Thursday, September 21st
Thursday, October 19th
Thursday, November 16th
Thursday, December 21st